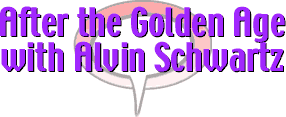 Giving a glimpse into the formative years of comics and beyond.
Current Installment >>
Installment Archives |
About Alvin |
Round Table
AFTER THE GOLDEN AGE for 10/01/2001
October 1, 2000
There will be no new column for the next two weeks. Family business will tie me up until October 9, when I will be appearing on New York's FM Station WBAI-99.5 FM, on the program NUFF SAID, at 10 PM to discuss Comics and World War II and various other matters. Using Real Player or Quicktime, anyone with Web access can tune in and hear the show by following the link below.




www.comicbookradioshow.com
Tune in to hear Alvin on
October 9, 10PM Eastern Time!


In the meantime, I am, as always, accessible by email and in my message board.

--Alvin



<< 09/24/2001 | 10/01/2001 | 10/15/2001 >>


Discuss this column with me at my Round Table.

Recent Columns:

NEWEST
Vol. 2, #205 I have been away for months... (03/09/2008)
03/03/2008
Vol. 2, #204 Section 4 - A legal issue as well?
02/11/2008
Vol. 2, #203 Section 3 - Introducing Mr. Sattvapalli
02/04/2008
Vol. 2, #202 Section 2
01/28/2008
Vol. 2, #201 Section 1
01/14/2008
Vol. 2, #200 I've been away a long time. Not just from this column, but far earlier than that...
06/18/2007
Vol. 2, #199 Superman as more of a process than a fixed creation
05/21/2007
Vol. 2, #198 "Bleep" team to make "Unlikely Prophet"...
04/02/2007
Vol. 2, #197 Consciousness Visiting (Part II)
03/26/2007
Vol. 2, #196 Consciousness visiting. My arcane subject for today.
12/25/2006
Vol. 2, #195 Problems Crossing the Border
11/27/2006
Vol. 2, #194 Sometime in the mid-1940s, Dan Miller, proprietor of the local general store in the rural village of Springs, Long Island, New York, acquired a painting from his new neighbor, the painter, Jackson Pollock. I knew them both in those days. But it took me many years to figure out how it might have happened.
10/23/2006
Vol. 2, #193 In writing these stories, my imagination often ran ahead of me. I tried to consider the meaning of these outsized heroes,
10/09/2006
Vol. 2, #192 Superman didn't become the rescuer, the savior and upholder of the law because he was made that way on some other planet...
Archives >>
Current Installment >>
Installment Archives |
About Alvin |
Round Table