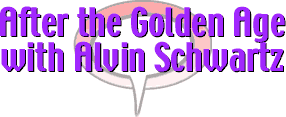 Giving a glimpse into the formative years of comics and beyond.




Current Installment >> Installment Archives | About Alvin | Round Table


AFTER THE GOLDEN AGE for 07/08/2002
Volume 2, Number 40

Last week I talked about nanbots, those microscopic robots that could so enhance our natural abilities that our personalities would change in ways not always necessarily for the best. This week, I propose to speculate on a way in which humans can call upon their own inner reserves so that instead of relying on nanbots, they could call upon their own multiple personalities to accomplish much more than any mechanical means could provide.

Of course, everyone's heard about people with multiple personality disorder. That's the condition in which a variety of different individuals reside in the same body, one or the other taking over the body at various and usually unpredictable times. Some people have been known to possess as many as 12 different selves, each popping up unexpectedly and taking over for a while with no memory or awareness of the others.

Well, the fact is, we all have many personalities living within us, but under control, and with no apparent presence as far as outsiders are concerned. In fact, they usually show up in dreams. As we sleep, we are often someone quite different and apparently unrelated to our normal waking personalities. The only sign of this underlayer of other selves may emerge in mild changes of mood, slight and random memory difficulties-minor shifts in outlook that seem to have some continuity with the person we know as ourselves. In fact, elements of these hidden personalities sometimes emerge in the form of hidden skills and taslents, a gift for music or art or writing. Well, in my introspective noodling around, I've figured out a way to avoid having to use mechanical nanbots and create capacities right from within ourselves. In other words, I am learning how to reach my hidden personalities, how to bring them forth when needed and even how to give them license from time to time to do their own thing. In the course of these columns I will, from time to time, bring forth such personalities and let you meet them. You will discover, as I have, that they are really separate, that they think in their own ways and have their own special gifts which I do not control, although I can turn them off when I need to.

Certain schools of Buddhism believe that the so-called "self." is not a unity but rather a concatenation of things, personalities, even clusters of antithetical personae in sometimes significant disharmony with one another. That may be one explanation. I think there may be others. But, as I said, within the construct of my Alvin Schwartz personality, I have become familiar with a being I know only as Nestor. Sometimes, in fact, I'm aware of him as Nestor the Critic. And since he appears to have something interesting to say about one of my recent books, THE STRAIGHT TREE, I'm going to demonstrate his presence by letting him take over and have his say. I'm not sure I agree with him wholly, but since I've often considered unhappily how I think the broad masses of readers are being starved of quality reading material by the MBAs that seem to be running today's mainstream publishing world (which may be the real reason for the decline in book sales, and the even more notable decline in formulaic romantic fiction) Nestor and I do appear to have, as you will discover, some common agreement. Besides, I think it more seemly that Nestor rather than myself review THE STRAIGHT TREE. I mean, after all, how often do you see authors reviewing their own books? So, my friends and readers, I turn this page over to Nestor, the Critic.


My Dear Readers-

Basically, I don't really like Schwartz.

In fact, I don't really like anybody. I'm a critic. That should be enough. I've read THE STRAIGHT TREE. And these are my views which go somewhat beyond simply evaluating a book.

First, let's consider that while the publishing business has seen enormous changes in the last 30 years, I find in some ways it remains a laggard when it comes to popular taste. Most mainstream publishers and their salespeople remain highly resistant, for example, to anything that treats of the metaphysical outside a narrowly defined genre, ie horror or mystery. Yet the so-called metaphysical has really become mainstream.

Publishers Weekly recognized that in a story titled New Agendas back on April 13, 1998, using an illustration from the jacket cover of Schwartz's then-new memoir, AN UNLIKELY PROPHET. According to PW, metaphysical books had become the fastest growing segment of the business. All this by way of getting straight to the point about Schwartz's latest novel, THE STRAIGHT TREE. It seems to have the elements of distinctive writing that I always take pleasure in, but also takes a leap beyond mere quality writing in the degree to which it recognizes the social change in which May-September relationships have reversed themselves on such a broad scale, although, as yet, very little of our literature has acknowledged this significant social reversal, or the unique problems it brings-not in terms of social disapproval. That barely exists anymore. But the altogether new way in which motherhood has become an intrinsic element in many marriages.

Call it synthetic incest. Call it a return to intrinsic elements of humanity's primordial matriarchal structure. The missing chthonic foundation. Or perhaps even one of the emerging aspects of Teilhard de Chardin's envisioned noösphere. These are critical representations for those who need them. But a large part of the likely popular interest, even need for this book are mentioned in the final paragraph of this commentary.

Basically, in Schwartz's novel, we are gradually led to an intimate understanding of a love story between an older woman and a much younger man, Sam Hobbes. that goes far beyond evaluating a monogamous relationship merely by its capacity to endure. The second element, preceding the first in time, involves the role a woman visitor to the family farm, a talented cellist who first offers the very young Sam that sense of universality and vision that helped awaken a gift for healing that begins in slow stages to take over his life. It will also affect his love relationship in the sense that the "shamanic" factor comes into natural and, in fact, creative conflict with the "maternal."

The wide interest in Edgar Cayce's well documented psychic gift remains as fascinating as ever today, and more acceptable as well, so that young Sam's obviously similar abilities get explored carefully and, in this novel, by more significant scientific standards than I've ever noted elsewhere.

During all this, Schwartz, well schooled in science, who has himself also had significant personal experience in the psychic arena, takes us into the mind of his protagonist, revealing what it's really like to have an unusual healing gift, as well as the ways in which the personality has to struggle against being overwhelmed, and the outside pressures that demand such a gift be put at the service of others regardless of personal cost, especially in Sam's relationship with his older mistress.

Finally, it raises a startling question based on new scientific thinking: Are these psychic cures, even the well substantiated ones like Cayce's, really what they seem to be?

It is also worth pausing here to note that since market factors play such a role in publishing today, it strikes me, at least, (and here I'm speaking to that misguided numbers-minded editorial coterie) that if you could count the number of post-forty single women who consult horoscope pages, you will have defined a significant part of the very large possible audience for this book. This broad market sector is in addition to those who are likely to appreciate the author's careful scepticism about such a gift's ultimate value. In this case, I believe you'll find the awareness behind the writing and even the views of scientists that attempt to explain the young man's gift, really enhance the interest by giving truly convincing depth to the story.

Schwartz also looks at all the modes of psychic exploitation of others through advertising, the growing gambling disease, and even the descent into pure superstition. But there are deeps yet to be explored beyond these which the author doesn't shirk. And these have to do with the way time and endurance, as a measure of external reality can never be applied to the internal realities that are the source, to use Jung's term, of the mysterium coniunctionis love in an instant is still love forever. Most of Schwartz's women readers will quickly come to understand this. And his men readers owe it to themselves to understand what the women know.

Having dealt with all the "critical" stuff, I mustn't leave out all that other stuff in the novel about strange predictions, a threatened flood leading to the evacuation of New York City and a host of remarkable characters, psychics, admen, a certain metaphysically-fascinated Hollywood actress, a famous columnist and a rather close look at a grim mob enterprise involving horse-racing that will leave you, as they say, rolling in the aisles. Also, there's a strange little wise man in the book that, well, frankly, reminds me of myself. In fact, it's really a very "big" novel.

-Nestor the Critic
--Alvin



<< 07/01/2002 | 07/08/2002 | 07/29/2002 >>


Discuss this column with me at my Round Table.

Recent Columns:

NEWEST
Vol. 2, #205 I have been away for months... (03/09/2008)
03/03/2008
Vol. 2, #204 Section 4 - A legal issue as well?
02/11/2008
Vol. 2, #203 Section 3 - Introducing Mr. Sattvapalli
02/04/2008
Vol. 2, #202 Section 2
01/28/2008
Vol. 2, #201 Section 1
01/14/2008
Vol. 2, #200 I've been away a long time. Not just from this column, but far earlier than that...
06/18/2007
Vol. 2, #199 Superman as more of a process than a fixed creation
05/21/2007
Vol. 2, #198 "Bleep" team to make "Unlikely Prophet"...
04/02/2007
Vol. 2, #197 Consciousness Visiting (Part II)
03/26/2007
Vol. 2, #196 Consciousness visiting. My arcane subject for today.
12/25/2006
Vol. 2, #195 Problems Crossing the Border
11/27/2006
Vol. 2, #194 Sometime in the mid-1940s, Dan Miller, proprietor of the local general store in the rural village of Springs, Long Island, New York, acquired a painting from his new neighbor, the painter, Jackson Pollock. I knew them both in those days. But it took me many years to figure out how it might have happened.
10/23/2006
Vol. 2, #193 In writing these stories, my imagination often ran ahead of me. I tried to consider the meaning of these outsized heroes,
10/09/2006
Vol. 2, #192 Superman didn't become the rescuer, the savior and upholder of the law because he was made that way on some other planet...
Archives >>
Current Installment >>
Installment Archives |
About Alvin |
Round Table